Overall Problem:
Preventable medical errors in today's healthcare delivery occur as a result of many factors such as poorly trained medical staff and patient care errors that originate from poor downstream communication between care givers. Patient safety researchers have released new findings that now support that these preventable medical errors are the 3rd leading cause of death in the United States resulting in 251,000 lives lost every year .....behind heart disease and cancer.
Read more in the Washington Post Article here!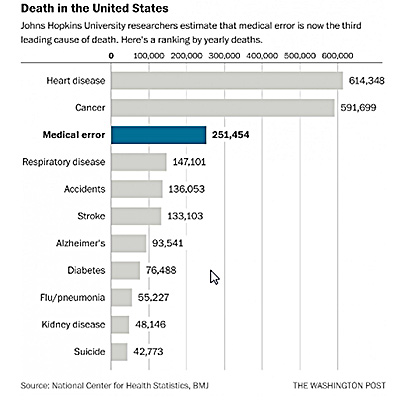 Contributing Factor:
In an effort to cut costs and improve physician workflow to increase adoption of the electronic health record, many hospitals and physician practices have embraced clinical documentation processes such as front-end voice recognition and templates driven by physician self-edit. These processes remove the balance of external quality oversight and allow documentation errors to remain unchecked. Resulting error-ridden records are then used in clinical decision making downstream. At this point it has not been determined how these documentation errors contribute to the overall problem of preventable medical errors, but researchers are hard at work to determine their influence.
A recent article published in The International Journal of Health Care Quality
Assurance titled "Error rates in physician dictation: Quality assurance and medical record production" (March 2014), highlights a quality study that found 315,000 errors made by physicians in every one million dictations.
Read the details of this actual study here!
This study summarizes the obvious need to integrate external quality assurance into the self-editing, ("once-and-done") documentation process deployed in so many healthcare environments these days. Physicians simply don't have the time needed to ensure every rendered error is removed before the patient record is used for treatment.
Solution:
As early adapters of speech recognition technology, Med-Scribe Information Systems has remained committed to delivering a back-end speech adoption solution with 5 key goals in mind:
Improved physician satisfaction and fast turnaround times
Improved EHR adoption
Better data for outcome analysis, coping and compliance
Significant cost reduction
Improved accuracy
By utilizing U.S.- medical language editors to perform the QA process for the physician's benefit, Med-Scribe guarantees an accuracy rate no lower than 98.5% and fast turnaround on every dictated report through our company's Continuous Quality Improvement program.
Our mission is to deliver back to the dictating physician a document that is ready to be reviewed and authenticated the first time, keeping the physician productive and minimally involved in the editing process. Med-Scribe understands by making the overall documentation process easier for the physician, EHR adoption will improve and better data will be collected in an effort to reduce preventable medical errors from occurring in the first place.